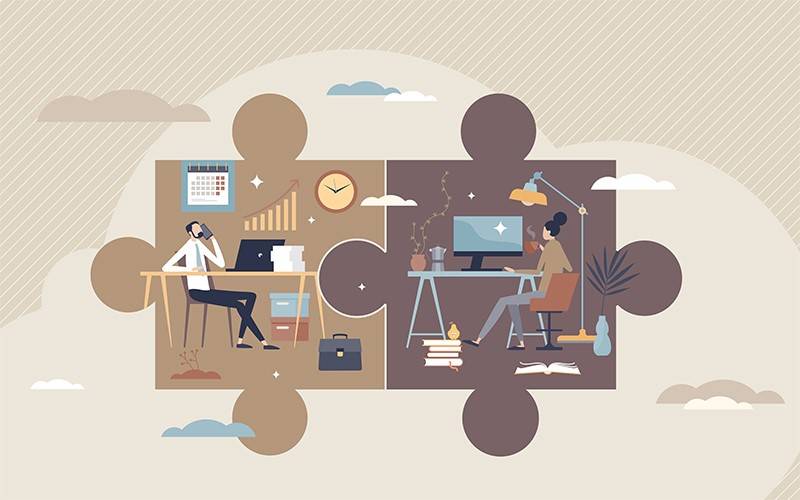 PRIVATE SPACES ATTRACT WORKERS BACK TO OFFICE
Author: Gavin Bradley, Dec 16th 2022
Employers need to think differently about the role of the office and it needs to be modified in order to accommodate offer workers to concentrate on their work, according to international benchmarking research by global real estate consultancy Jones Lang LaSalle (JLL)..
The Hybrid Work Decoded report shows that workers are dividing their time between home and the office after researchers surveyed more than 5,000 people in 15 countries, to find out how to best design offices for optimum use.
It reveals that people are now spending more than half of the week (2.8 days) in the office but find most of their work – focused work – is easier to do from home.
The report states that modern offices "need to offer flexibility and private space to allow focused work and boost productivity".
The benchmarking report also finds that:
France has the highest rate of people returning to the office in Europe with 3.5 WFO days compared with just 2.6 in the UK and 2.3 in Germany.
Tuesday is the most popular day to WFO, with Friday the least popular.
Working hours in the office are only slightly higher than WFH.
The key drivers on returning to the office are social interaction, collaboration, and technology support while work-life balance and wellbeing are WFH strengths.
Half of all virtual collaboration during the week is happening in the office, and half of the office virtual collaboration is done at the desk.
More than a third of people use the office to establish a proper life/work separation.
Insight on decisions
Gavin Bradley, Chief Wellness Office at Yo-Yo OFFICE, said: "This is a fascinating insight into how office workers are making decisions about how best to work in the new hybrid environment. It is clear most people value the office for the social and collaborative elements of their work and are choosing to spend more than half of the week there."
"But we also know 55%of our week is on 'focused work' and we need to make sure office workers can do this effectively in the office. This means offering quitter or more private working spaces away from the office chatter that allows people to concentrate."
"Perceptions of noise have changed after the pandemic, when people got used to working from a quieter environment. Just 28% now believe the office is the best place for focused work."
The range of solutions to absorb or reduce noise has grown rapidly. Yo-Yo POD® is a new and unique acoustic office booth which plays on being mobile, modular and multifunctional. Yo-Yo POD® MEET is ideal for dividing any workspace and creating defined collaborative meeting areas. Most importantly it can be configured and reconfigured in seconds:
Enabling users to benefit from the removal of unwanted noise
Reducing voice levels as employees can speak more softly
Creating greater visual privacy from the other team members in the office
Offices which have deployed Yo-Yo POD® as a mobile and modular office pod have experienced improved levels of concentration and more positive mood affects. They have also reported a marked reduction of stress levels in offices which had exceptionally high noise levels.