Join the workplace revolution for improved wellness and productivity. Keep moving!
Mobility #1
Europe's favourite Mobile Pod
Making offices more mobile, modular and multifunctional
100%
Sustainable
Fabric made from 100% recycled materials
Designed to be easily re-upholstered, dismantled or repaired
Modular
Convert any office into an agile office
Configurable for 2, 4 or 6 people. Reduces sound, both inside and out

Mobile
Move around with ease and safety

Modular
Flexible options, interchangeable

Fast Delivery
Available in 7–8 weeks

Made in Britain
ISO 9001, ISO 14001 & FISP

Sustainability
FSC Certified. 100% recycled materials

Mobile
Move around with ease and safety

Modular
Flexible options, interchangeable
Mobile
Moves easily & safely, with lockable wheels
Modular
Re-configure any space, again and again
Multifunctional
For meetings, focus work, zoom calls or room divider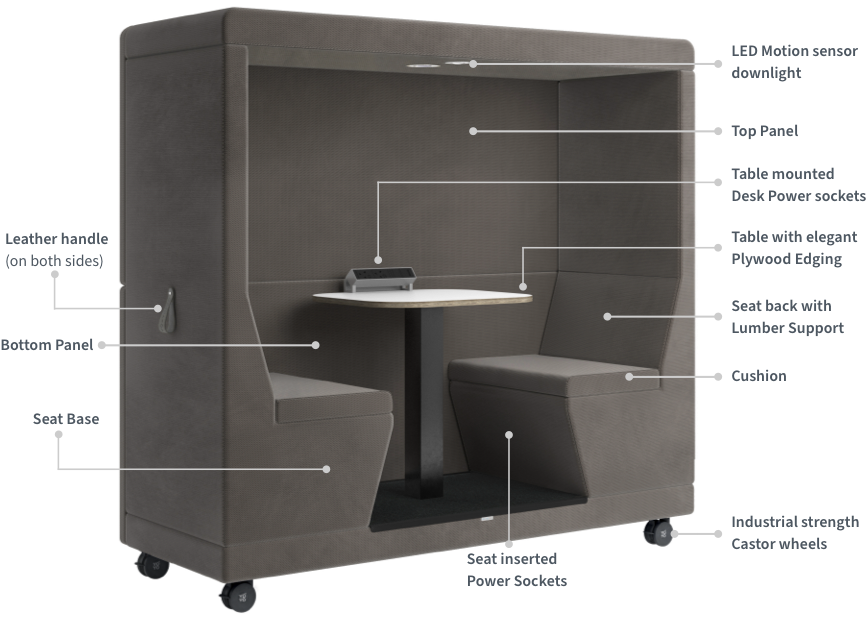 Battery Power
Up to 3 days roof light charge life.
ECO Fabric
Made from 100% post-consumer recycled plastic
On Tour
International trade show highlights
Find out more about Yo-Yo POD...


Quick Info
WHY YO-YO POD®?
Today's offices need to fulfill a greater range of people's needs. YO-YO POD® acoustic booth, designed by experts to be maximize flexibility within an agile office:
Mobile

moves effortlessly

Modular

re-configure any space at any time

Multifunctional

versatile for meetings, focus work, zoom calls or as room divider
YO-YO POD® is leading a workplace revolution to make offices more active and agile. Sustainably produced in the UK.
Designed to be neuro-inclusive, our extensive range of high-performance standing desks and mobile acoustic booth solutions will keep office workers moving and deliver wellness & productivity gains.
Our founder, Gavin Bradley, is the UK's thought leader on all things Active Working®, and founder of a community interest company dedicating much of his time to the non-profit work behind the Get Britain Standing® and On Your Feet Britain® campaigns.
Trusted Company:
With all Yo-Yo OFFICE® pods, booths and desking proudly made in Great Britain we work hard to build and maintain high quality reputation for sustainability, quality and service. We are the only company to power our factory from solar power in addition to offering an upholstery and retrofit service. Customers who purchase either Yo-Yo POD® or Yo-Yo DESK® height adjustable desks praise us for the improvements our solutions provide and most wish they had purchased years ago. With thousands of delighted customers, Yo-Yo OFFICE® has rapidly become the nation's favorite active and agile office furniture company.
Quality Products:
Yo-Yo POD®S are high quality, durable, stylish and most importantly highly sustainable. Made in Britain, we also offer an installation service and warranty for up to five years.
SWIFT DELIVERY:
Our pods are shipped speedily, our delivery commitment is 7-8 weeks.
CUSTOMER SERVICE:
Customers love Yo-Yo POD® because we offer excellent quality solutions at more affordable prices.
We are a UK-based business with expert sales staff who pride themselves on ensuring you get the optimal solution to help your office keep moving.
SUSTAINABILITY:
Passionate to improve the wellness of our environment, our sustainability drive includes:
RECYCLED AND SUSTAINABLE MATERIALS:
All our fabrics are made 100% from recycled materials. Our frames are made from 100% hardwood ply and water-based adhesives.
FSC CERTIFICATION:
All our Tabletops are made in Britain and FSC certified, an environmental label that requires that the production of wood-based products respect procedures that guarantee the sustainable management of forests.
ECO PACKAGING:
Yo-Yo POD® products have 100% cardboard ECO packaging removing plastics and polystyrene from inner packaging.
SOLAR POWER:
Our Factory and warehouse are powered by electric solar panels.
EASILY RE-UPHOLSTERED & RECYCLED:
All Yo-Yo POD®S are designed to be easily re-upholstered & recycled. Both carcasses & fabrics can be easily dismantled and replaced.